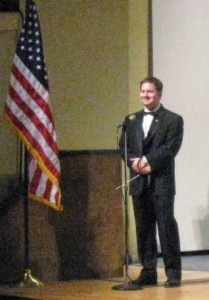 Andrew Lesser's teaching abilities have been described as "unsurpassed", "inspiring", and "gifted".  He has taught grades as early as Kindergarten to collegiate students and adults in both public and private capacities. In the public education field, Andrew has taught Concert Band, Choir, Music Theory, Jazz Band, and Marching Band. Under his direction, his students have performed at Rowan University, the New Jersey Performing Arts Center (NJPAC), Citizen's Bank Park, the Sun National Bank Arena, the Camden County Superintendent's Conference, internationally, and numerous venues in the Philadelphia region. In 2008, the Lindenwold High School Marching Band under his direction won the prestigious U.S. Marine Corps Award for "professionalism, patriotism, and pride." In 2014, Mr. Lesser's students were featured as finalists in both the NJ101.5 and B101 FM Holiday Choir Competitions. Andrew has taught at the Burlington City, Haddon Heights, and Lindenwold Public School Districts. He currently serves as Music Director at Wilbur Watts Intermediate School at the Burlington City School District, NJ and Adjunct Professor of Music at Rowan College of Burlington County. His students have performed in venues such as the Arm & Hammer Stadium, Sovereign Bank Arena, the New Jersey Performing Arts Center, and the Wells Fargo Center.
Dr. Lesser has also published many music education resources on Teachers Pay Teachers, including lessons, texts, and handouts on composers, music history, world music, popular music, music in multimedia, and jazz. Click the below icon to access Mr. Lesser's teacher site.

MUSIC PUBLICATIONS_________________________________________________________
Snow Through a Window for Wind Ensemble. Published by Kjos, 2008.
Featured in Teaching Music Through Performance in Band, Volume 10
O Magnum Mysterium by Tomás Luis de Victoria. Arranged for Clarinet Quartet.Published by Grand Mesa Music, 2006.
The Labyrinth for Wind Ensemble. Published by Musica Propria, 2002. 
SELECTED PRINT PUBLICATIONS_________________________________________________________
Lesser, A. (2020, Forthcoming). An investigation of digital game-based software in the elementary general music classroom. Journal of Sound and Music in Games.
Lesser, A. (2019). Reflections on continuing education: Process and progress. Tempo, 73(3), 50–51.
Lesser, A. (2019). Video game instruction and learning in the music classroom (Doctoral dissertation). Retrieved from ProQuest. (UMI #13427524).
Lesser, A. (2017). Music education in the political arena. Tempo, 71(3), 42–43.
Lesser, A. (2017). Analysis of a music affective behavior scale. Tempo, 71(2), 52–55.
Lesser, A. (2016). Toward a new vision of equality: Perspectives of male teachers in the elementary music classroom. Update: Applications of Research in Music Education, 1(8), 1–9. doi:10.1177/8755123316661854
Lesser, A. (2016). Teachers' perspectives in using Disney songs in the music classroom. General Music Today, 30(1), 25–29. doi:10.1177/1048371316641987
Lesser, A. (2016). A modern exploration of gender stereotypes in the selection of music teacher applicants. Tempo, 70(3), 42–44.
Lesser, A. (2016). Promoting STEAM: Advocacy and application. Tempo, 70(2), 24–25
Lesser, A. (2015). Cross curricular integration in the elementary general music classroom. Tempo, 69(2), 34–36.
Lesser, A. (2014). Preparing effective lesson plans. Tempo, 68(3), 28–30.
Lesser, A. (2013). Preparing for a successful audition. Tempo, 68(1), 28–29.
To contact Andrew Lesser for speaking engagements, private instruction, or seminars, please e-mail at andrew.lesser@yahoo.com