Born in Cherry Hill, New Jersey, Andrew began his formal music training studying under Frank Mazzeo, Principal Clarinetist of The Walnut Street Theatre Orchestra and nationally acclaimed composer Bruce Yurko. Andrew earned his Bachelors Degree in Music Education and Performance from The Mason Gross School of the Arts at Rutgers University in New Brunswick, NJ. During his time, he studied under Anthony Pasquale, Principal Clarinetist of the Manhattan Chamber Symphony. Andrew subsequently earned his Masters Degree in Music Performance at The University of Maryland, studying under National Symphony Orchestra Principal Clarinetist Loren Kitt.  Andrew recently completed his doctoral  degree in Music Education from Teachers College, Columbia University.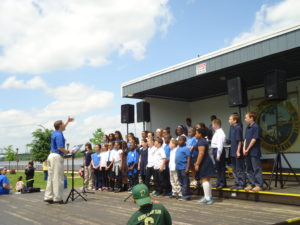 As a clarinetist, Dr. Lesser has performed as Principal Clarinet and E-flat Clarinetist with the Rutgers University Wind Ensemble, Rutgers University Symphony Orchestra, The University of Maryland Wind Ensemble, University of Maryland Symphony Orchestra, the Symphony in C (formerly the Haddonfield Symphony), and the South Jersey Area Wind Ensemble. He made his Carnegie Hall debut performing with the National University Wind Ensemble in 2002, and has performed in venues including The Kimmel Center and New York's Town Hall and abroad in Puerto Rico and Aruba. He has worked with artists such as Osmo Vanska, Faith Esham, H. Robert Reynolds, Eugene Corporon, and Ray Charles. Andrew is a member of ASCAP (American Society of Composers, Authors, and Publishers), MENC: The National Organization for Music Education, SJBODA (South Jersey Band and Orchestra Directors Association), the International Clarinet Association, and is a founding member of the New Jersey Young Composers Competition. He currently serves as Concertmaster and Principal Clarinetist of the Philadelphia Wind Symphony.
As a composer, Dr. Lesser has had his works premiered by some of the finest university and professional ensembles in the nation. His first work for Wind Ensemble, The Labyrinth, was premiered by the Rutgers University Wind Ensemble in 2002, and recorded by the Rowan University Wind Ensemble in 2008. He is currently published by companies including Music Propria, Grand Mesa Music, and Kjos. His piece Snow Through a Window is currently featured in the 10th volume of Teaching Music Through Performance in Band. His scores have been described as "intense", "evocative", and "unique", using a variety of techniques and influences from traditional orchestral and chamber music to music of popular and world cultures. "As a composer, I believe that the purpose of music is to educate, entertain, and enlighten. It is always my intention to achieve that goal with every piece I write."
Dr. Lesser's skills as an educator have been described as "unsurpassed", "inspiring", and "gifted." He currently serves as the Director of Music at the Wilbur Watts Intermediate School in Burlington City, NJ, where he directs the general music and vocal programs. Prior to this appointment, Dr. Lesser taught at the Haddon Heights and Lindenwold School Districts, where he spearheaded a five-tiered music program, teaching Concert Band, Choir, Jazz Band, Music Theory, and Marching Band. Under his direction, Andrew's students have performed in numerous festivals, competitions, and community events, ultimately being honored with the U.S. Marine Corps Award in 2008 for "professionalism, patriotism, and pride." His students have performed with the Rowan University Wind Ensemble, All South Jersey and Olympic Conference Honors Bands, the NJPAC Center for the NJ Shouts Down Drugs! Songwriting Competition, the Philadelphia Vocal Conservatory, and internationally in the Citta' della Pieve Opera Festival, Italy. In 2009, Dr. Lesser served as conductor of the All South Jersey Jr. High Honors Band, and has traveled to various music programs in the South Jersey area, providing consultations for music educators teaching Kindergarten through 12th Grade.
Dr. Lesser has been published in Update: Applications of Research in Music Education, General Music Today, ProQuest, TEMPO Magazine, and the Journal of Sound and Music in Games. He has presented clinics at Rutgers University, Rowan University, The College of New Jersey, the New Jersey Educators Association (NJEA) Convention, the New Jersey Music Educators Association (NJMEA) Convention, and the National Association for Music Educators (NAfME) Bi-annual Convention.  In January of 2015, Dr. Lesser was appointed as an Adjunct Professor at Rowan College at Burlington County. He also teaches clarinet and saxophone privately, and is available at andrew.lesser@yahoo.com for more information.
In 2018, Dr. Lesser became a Quarterfinalist for the 2018 Grammy Music Educator Award. His is now the Technology Chair of the New Jersey Music Educators Association.
He currently resides in Mount Laurel, New Jersey with his wife, Meg, his son Daniel, and his cats, Oreo and Puff.
View Andrew Lesser's Curriculum Vitae by clicking here: Andrew Lesser – Curriculum Vitae 2020